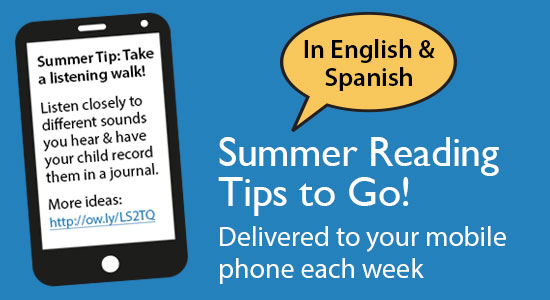 Sign up now for another season of tips to inspire summer reading and active summer learning, available in English or Spanish!
Do more reading, talking and exploring in the summer!
Our summer learning tips provide ideas to jumpstart reading, writing, and simple science activities for you and your child. You'll receive 3-4 text messages each week, all summer long. We hope these tips will help you and your kids have a summer full of learning and fun!
Easy sign up
To start receiving our summer literacy texts, simply text READING to 41411 from your mobile phone, or enter your mobile number into the box below and click "Subscribe." It's that easy!
To stop receiving texts at any time, text STOP to 41411. For help, text HELP to 41411. Standard message and data rates apply, so check with your cellular provider if you have billing questions.
Happy summer reading!
Suscribirse
¡Suscribirse a recibir mensajes de texto para ayudar a los niños con la lectura! Recibirá 3-4 mesajes por semana durante todo el verano. Para suscribirse, manda LECTURA a 41411, o introduce su número de teléfono en el cuadro de abajo y haga clic en "Subscribe." Responde Y para confirmarlo.
Cargos por mensajes y datos se aplican. Para cancelar en cualquier momento, manda STOP a 41411.
¡Vamos a leer!