We want readers to make connections between books and their own lives and the world around them. Connecting real experiences for kids with literary ones is something that I've found also helps readers value books and knowledge. And it is so much fun to extend the pages of a story into a real-world activity!
Mom, granny, teacher, artist, and writer Mary Brigid Barrett grew up in a large family that made loving efforts to bring books to life. And she's continued those efforts with her children, grandchildren, and students, and through her work as the executive director of The National Children's Book and Literacy Alliance. We're so delighted she's come to Book Life to share some of her ideas for book-inspired adventures!
Mary Brigid's latest books, for Candlewick Press, are Pat-A-Cake and All Fall Down. She has served as a consultant to the Library of Congress on children's literacy projects and was the creative editor for the NCBLA's publications, Our White House: Looking In, Looking Out and The Exquisite Corpse Adventure. She and her husband, Dick, reside in Massachusetts with their Basset Hound Molly, who loves being read to while she gets a belly rub.
August 10, 2022
Summer Sundays by Mary Brigid Barrett
In the hospital and at his office, all day, six days a week, my father took dedicated care of his patients. Long into the night, he made house calls, visiting the elderly in their homes. But Sundays he belonged to us.
Five A.M. on summer Sunday mornings, I would accompany him to the hospital, attending first an express, fifteen-minute Mass — why couldn't the Mass at our parish church be as speedy? Then he'd hand me a new paperback book, dropping me off at the hospital cafeteria while he made his surgical rounds. It was pure heaven. At home, generic dry cereal with Carnation milk was the norm for breakfast, but the hospital cafeteria provided a wealth of choices — sausage and eggs, French Toast dripping in maple syrup, even cubed red Jell-O topped with a splash of whipped cream.
While my seven younger brothers and sisters lay a-snooze in bed, I sat and ate my dream breakfast, alone, reading my new book. No sticky fingers pulled at my blouse. No one demanded I get them cereal and juice. No pile of dishes waited to be washed. I could sit and read, with tangy cherry gelatin melting in my mouth, escaping into worlds unknown.
After his rounds, on the way home, Dad launched into a discussion of last week's book, a discussion he would continue as we dressed six of my younger siblings, fed them breakfast, and packed a lunch for all. I'd grab my sketchbook and pencils, and we'd load the whole crew into our ancient station wagon, so that my mother could sleep and rest at home with the latest baby, while we embarked on our Sunday adventure.

On the left: Two drawings from Mary Brigid's San Diego Zoo sketchbook. On the right: Mary Brigid still keeps her sketch book with her for family trips — here are recent sketches from Cape Cod travels.
We never knew exactly where we were headed. Sometimes we'd end up at a Cleveland city park. Sometimes he'd drive to the mouth of the Cuyahoga River and we'd follow a Lake Erie barge as it navigated upstream, watching the many movable bridges — side-swing, jackknife, vertical-lift, rotary, and drawbridge — making way for the rusting hulk. Dad would explain the engineering feats of the bridges, all the while encouraging me to sketch everything I saw.
Many times, I could guess our Sunday destination, as more often than not, we had book-themed adventures. At bedtime, before house calls, he'd read chapters from The Enormous Egg aloud. The next Sunday, we'd be off to see dinosaur bones at the natural history museum. Or he'd drive to the city stockyards, park where we could view, and smell, the cows and he'd read Ferdinand the Bull.
A reading of One Morning in Maine would result in one Sunday morning on a Lake Erie beach. Inspired by Charlotte's Web, wanting his city kids to experience a real farm, he drove out into rural Ohio, stopping spontaneously at a farm he thought hospitable. He introduced himself to the farmer, bartering a Kentucky Fried Chicken dinner for the farmer's family in return for a tour of the farm. Later, like Fern, I had the opportunity to pull a wooden stool up beside the pigpen. Sketching pigs and cows, smelling the hay and manure, animated Charlotte's Web. I wanted to read it again — and again.
Because of my father, summer reading is my favorite reading. My experience of reading became interwoven with the emotional experience of spending time with him. Because books were important to him — and the time he spent with me reading and discussing books emphasized that importance — reading and books became important to me
This summer, when my two granddaughters visit, I will emulate my dad, as I did when my three children were small, and we will have summer Sunday adventures inspired by books. We will read Make Way For Ducklings before heading downtown to the Boston Public Garden to ride on the swan boats. A reading of Kate Messner's book Over and Under the Pond will inspire a sketching outing at our local wildlife center. And before heading to the farm at Sturbridge Village, we will, of course, read Charlotte's Web. Wilbur and a Charlotte will be waiting for us in the barn.
Book-inspired summer adventure ideas
Outdoor Sketching Adventures!
Before heading out for a park or zoo visit, read The Camping Trip by Jennifer K. Mann or The Not-So-Great Outdoors by Madeline Kloepper. Before a zoo visit, dip into A Sick Day for Amos McGee by Philip C. Stead or Amadou's Zoo by Rebecca Walsh. Tuck a small sketch book into your child's backpack, along with a pencil bag filled with pencils, markers, and a small pencil sharpener. For fun, pick up a couple of kneaded rubber erasers at your local arts and crafts store!
Mary Brigid with granddaughter JoJo, introducing sketchbook drawing to a new generation on a family visit to Central Park, after reading Roxie Munro's The Inside-Outside Book of New York City.
On your walk in the park or zoo, stop along the way to sketch plants, trees, insects, and animals. Challenge your kids to change their perspective by climbing atop a rock or staircase and sketch looking down on a subject. Or looking up, suggest they draw the sun peeking through the leaves. Have them snap reference photos of the scenes and animals around them, to inspire drawings and paintings when you return home. They may want to write and illustrate their own park or zoo adventure book!
Baseball Adventures!
Read a baseball book of your choice before heading to a major city stadium or minor league field — or plan a trip to the Baseball Hall of Fame in Cooperstown, New York. Enjoy the game, and on the ride home have a conversation about how some outings engage all five of your senses. Ask your kids what they saw, smelt, tasted, touched, and heard at the game, comparing and contrasting those things to what they might see, or taste, or smell, or hear at home or somewhere else.
The next time you read a book, see if they can find sensory details in the story. Making them aware of how events and places engage their senses will help them become better writers.
American History Adventure!
For an American History adventure read selections from The National Children's Book and Literacy Alliance's publication Our White House: Looking In, Looking Out and plan a visit to the White House. If you cannot get to Washington D. C., there are presidential homes and libraries all across the country — maybe in your own state — that you can visit with your kids.
After your presidential history adventure, encourage your kids to write a letter to the president at the White House, sharing whatever they think is important with the president. Visit your local library and help your kids find more books about the presidents and American history.
Kids can write to the President at:
The President of the United States
White House Office
1600 Pennsylvania Avenue NW
Washington, DC 20500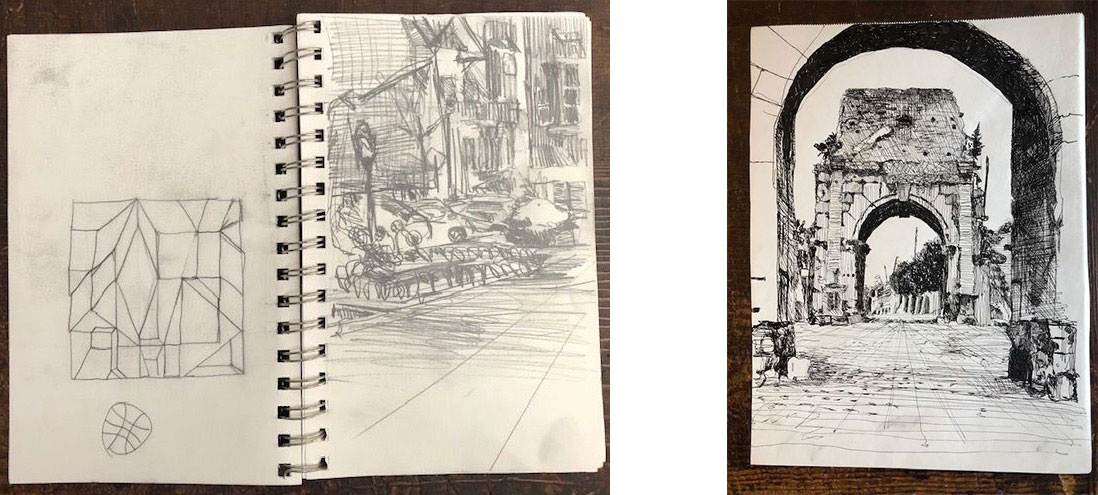 On the left: The grade-school family trip sketchbook belonging to Mary Brigid's son, Patrick. On the right: Patrick's travel sketchbook while he was a student at The Rhode Island School of Design.