Laura Purdie Salas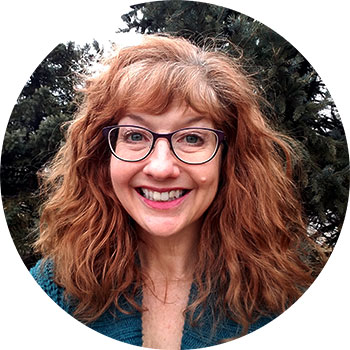 Author Laura Purdie Salas has long felt a strong sense of wonder about the Moon. If You Were the Moon, one of the more than 125 books she has written for kids, provides readers with her poetic Moon observations. We're so happy to have Laura share her wonderful Moon-inspired ideas to help you follow up on the interest and excitement generated by the anniversary of the Apollo 11 mission.
---
July 23, 2019
When humans first landed on the Moon in the summer of 1969, I was two years old. I do not remember the event, as I was probably more concerned with where my blankie was and why I had to eat green beans.
But growing up in Florida with a dad who worked for NASA tethered me to the Moon and to space exploration. Space exploration was a source of both joy (driving to the coast in early morning darkness to watch Space Shuttle launches in person) and grief (standing outside with college friends and witnessing the shocking Challenger explosion).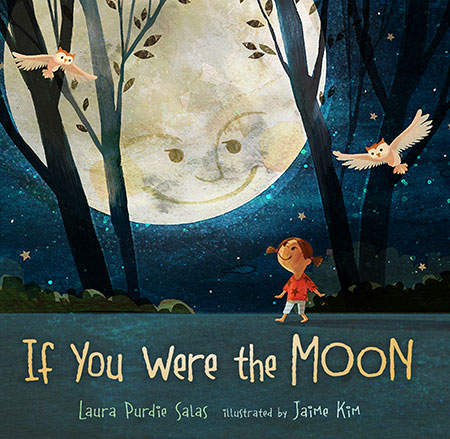 But, more than anything, the Moon itself made me feel connected. Kids halfway across the world looked up and saw the same Moon I did, just hours before or after me? Amazing that something so big and distant made my earth home feel like one cozy, close-knit family.
It's really no surprise that I grew up and wrote If You Were the Moon, a picture book about the Moon and all the important jobs it has.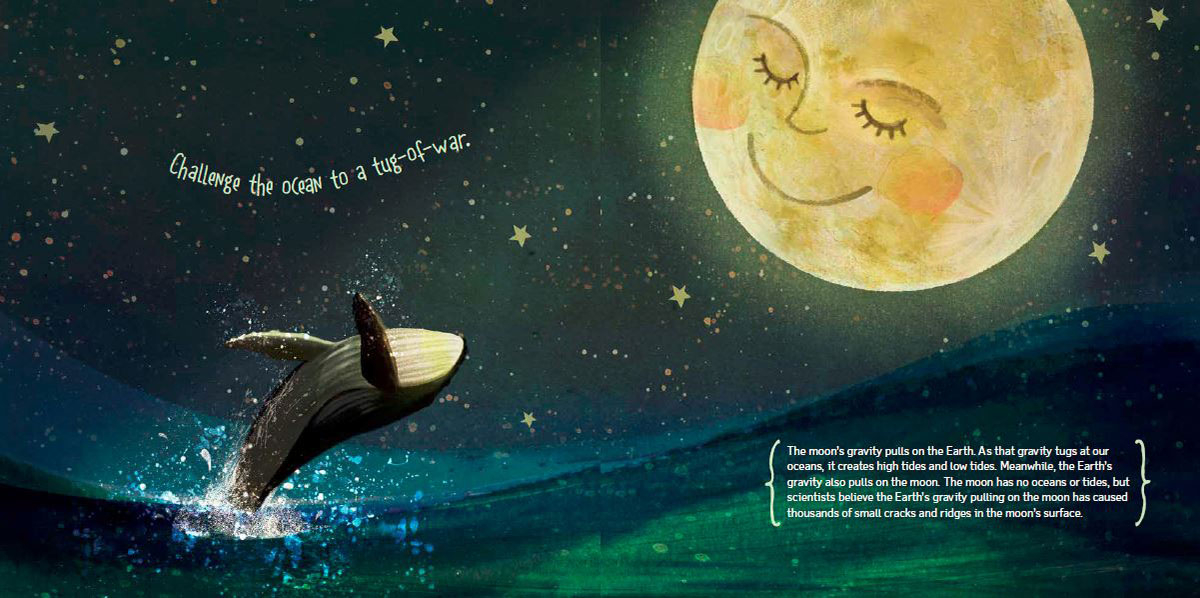 This summer is the 50th anniversary of humans landing on the Moon. What a great time to use the Moon and space exploration as a springboard for some creative projects.
Here are a few possibilities.
Write a "15 Words or Less" poem
The rules are simple. Look at a photo. Be inspired. Write a poem that has 15 or fewer words (title not included). Your poem can be funny, serious, sad, silly, scientific…as long as it's short! Recently on my blog, I shared this photo that I took at the National Air and Space Museum in Washington, DC, along with this 15 Words or Less Poem.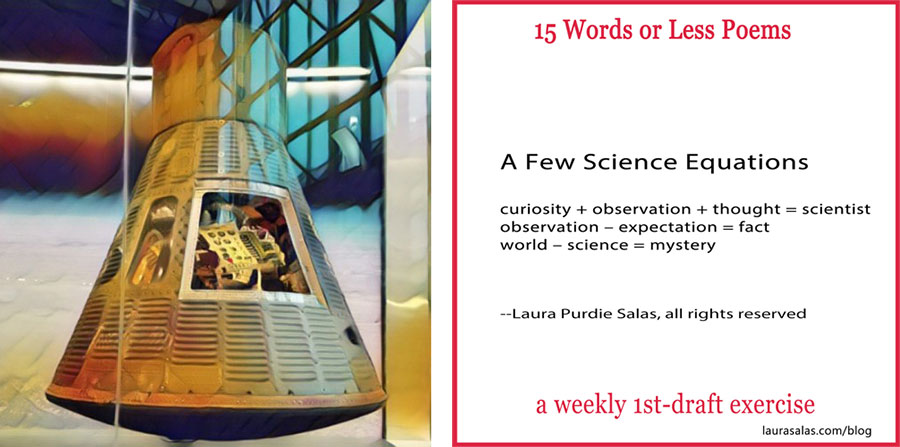 You can find more moon images to inspire you here at my Pinterest board and at NASA's online image galleries.
Write a "Things To Do If…" poem
My book If You Were the Moon started out as a Things to Do If… poem. In a Things To Do If… poem, you give an inanimate object (like a planet or a rocket) a list of things to do. Use your imagination. What would the object do if it were human? (Detailed directions here.) Here's an example I wrote about dandelions:
Things to Do If You Are Dandelion Fluff
Re-e-e-a-c-c-c-h toward the sky
Wave in the breeze
High-five every tree
Hold hands with soil and
Don't
Let
Go!
— Laura Purdie Salas, all rights reserved
Read some more Moon books
There are so many wonderful books (including fiction, nonfiction, and poetry) about the Moon! A few of my favorites are Our Moon, by Elaine Scott; A Full Moon Is Rising, by Marilyn Singer; Phrases of the Moon, by J. Patrick Lewis; A Kite for Moon, by Jane Yolen and Heidi Stemple; Hello, Harvest Moon, by Ralph Fletcher; and A Big Mooncake for Little Star, by Grace Lin. I also wrote two books about the planets: And Then There Were Eight: Poems about Space and Eight Great Planets!: A Song About the Planets.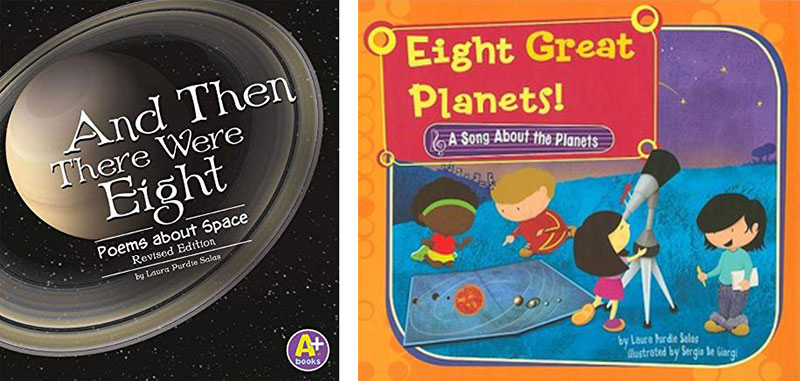 Write an astronaut diary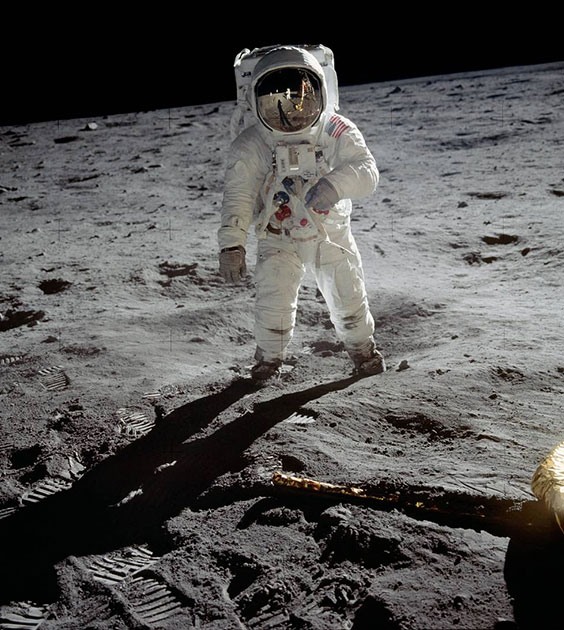 Explore NASA's Moon to Mars program. Imagine that you are one of the astronauts sent to land on the Moon. Write some diary entries describing your trip.
What will you see? What will you do? Will the journey be scary? Exciting? Boring?
You can make these entries as imaginative (maybe the other astronauts are aliens!) or as fact-based as you like.
Get outside and look up
Writing inspired by the moon is fabulous. Reading about the Moon is awesome. But going outside and looking up at the Moon is unique. It's just you looking across almost 240,000 miles of space to see our Moon. And you're seeing the same Moon that every single person on our planet sees.
You might want to use a small notebook to jot your Moon observations for a couple of months. (See this Moon Journal from Ranger Rick magazine.) Or to sketch the changing shape of the Moon.
Whatever you decide to do, don't forget to look. Our planet and its satellite, the Moon, make an amazing team. Look at the Moon and feel connected — to it, to the Earth, and to people like me, who share this planet with you.