Barb Rosenstock
We choose our heroes to help give us inspiration and guidance for the life we want to live. Books help kids make discoveries about individuals who changed history, open their minds to other perspectives, and find acts of courage within themselves.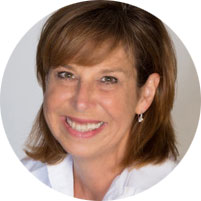 Barb Rosenstock writes about history's heroes for today's kids. She's the author of seventeen award-winning picture books including the 2015 Caldecott Honor title, The Noisy Paint Box, illustrated by Mary Grandpré. The Secret Kingdom and Otis & Will Discover the Deep were recently honored by the NCTE Orbis Pictus committee and Through the Window received a Sydney Taylor honor.
Barb lives with her family near Chicago. She loves to visit schools and share ideas about reading and writing with students. We're so excited to have her share some of her great ideas here along with a dose of hope.
---
October 15, 2020
Celebrate 2020! Hope in Action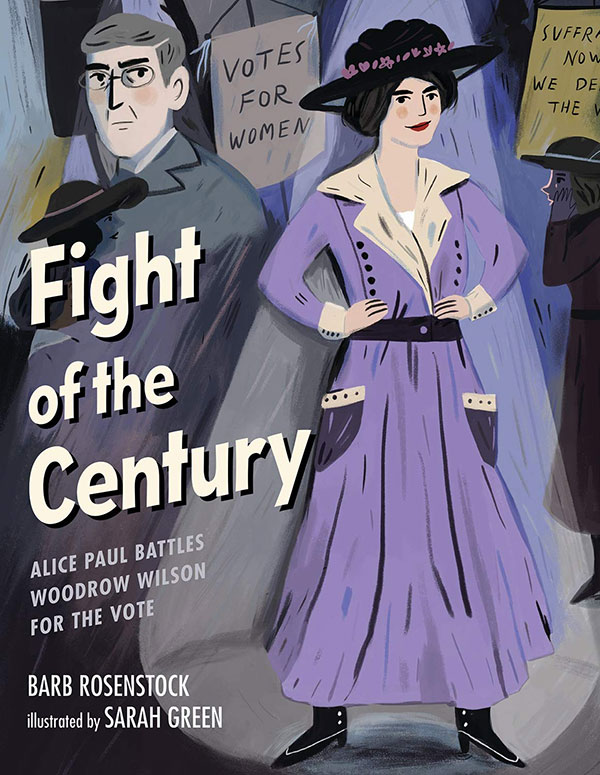 Wait! Is this a joke? There's a reason to celebrate 2020, this most difficult year? YES! This year is the 100th anniversary of the ratification of the 19th amendment — guaranteeing women the right to vote! My newest book, Fight of the Century: Alice Paul Battles Woodrow Wilson for the Vote, introduces kids to the ways that women fought for justice and changed our country.
This book's research journey started when I ran across this phrase from the 1891 Illinois constitution, "Idiots, lunatics, paupers, felons and women shall not be entitled to vote." That old law from my home state still stings. It shows the deep prejudice Alice Paul was fighting; the idea that girls are "less than."  (And, no wonder many suffragists also worked for the poor, imprisoned, disabled and mentally ill!) For years, I'd taken my ability to vote for granted, not understanding that my own grandmother was born without that right.
How did Alice Paul make change happen? She, and thousands of other women, known and unknown, wrote articles, marched peacefully, survived beatings, and endured prison. They proved that women were strong, organized, and rational. They stood up to those in power, including the U.S. President, until public opinion in their favor couldn't be ignored.

Alice, like all heroes, was not perfect. To help their cause, her National Woman's Party gave in to racist pressure and kept black women segregated at marches and other events. Black women continued their fight to vote for decades, until the Voting Rights Act was passed in 1965. All these brave women knew that equal treatment for girls starts with recognition as equal citizens. They made a commitment to change injustice through actions like those in Fight of the Century.  
Continuing the work for justice requires hope, effort, leadership and persistence, traits to be encouraged in all children, this year, and always. Kids have tons of great ideas on how to make their lives and our world better. Here are some possibilities for budding activists:
Make a banner!
Alice Paul and her followers used banners and signs to convince others that women deserved the vote. You can see some of them in Fight of the Century or at this National Park Service website.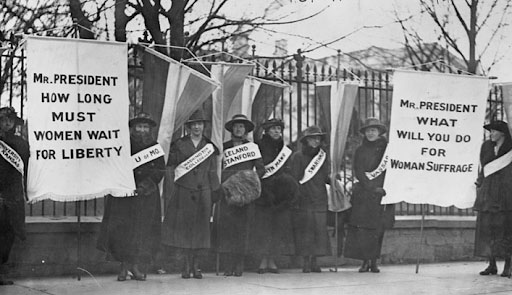 Is there something you believe is unfair? At home? At school? In the world? How would you change it? Banners and signs convince people to join your cause. You have limited space,  so you can only use a few words. What words will convince people you are right? Write your words of change, and make a banner using this blank template.
Colors of friendship. Colors of justice.
Alice Paul became close friends with many other women who worked toward suffrage. Sometimes these women wore 'suffrage jewelry,' pins, rings and necklaces made in the National Woman's Party colors, purple, white and gold. Purple represented loyalty, white stood for purity of purpose, and gold meant light and life.
Gather some friends and make your own three-color friendship bracelets. You can honor the work of the suffragists in Fight of the Century by using purple, white and gold. Or research the colors of your own favorite cause. If it's a personal cause, create your own colors and meaning.
Hidden suffragist ACROSTIC poem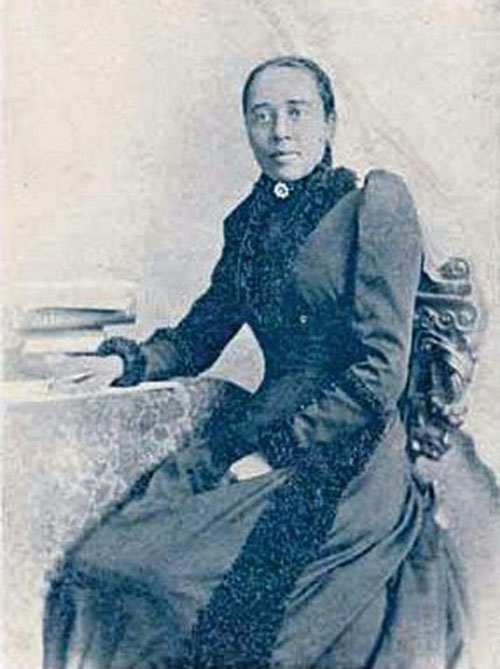 Every woman who fought for the vote was important, some have not received the recognition they deserve. Research a less-known, hidden suffragist, someone from a marginalized group or someone from your local area. Honor that person with an acrostic poem to make your readers curious to learn more. Here's one for author, educator, speaker, Anna J. Cooper (1858-1964):
Activist
Notable teacher and principal
Native of Raleigh, North Carolina, born enslaved
Author of the important book, A Voice from the South
J.ulia was her middle name
Club woman and mentor to Angelina Grimke
Oberlin College graduate
Often called the "Mother of Black Feminism."
Prominent African American scholar
Earned a doctoral degree in 1924 after adopting 5 children
Resilient
My hope is that you always know that your actions can make the world a better, fairer, kinder place for all! Let's get going!
More about Barb Rosenstock