My dad is a birder. Which essentially means that everyone in my family is a birder. Growing up, I was sometimes a willing birder, especially when I was younger and would get to carry the binoculars. But I can also remember staying in the car as a tween in protest at having to stop to check for birds when running errands — only to thumb through the field guide in the glove box because I had nothing else to read! So, no matter what, I got exposed to the incredible world of birds.
To bring that incredible world of birds and birding to kids, Reading Rockets' Start with a Book has developed a new summer learning toolkit. Bird Buddies provides 5 days' worth of hands-on activities, suggestions for birding outings, recommended fiction and nonfiction titles, writing ideas, and kid-friendly podcasts, apps, and websites.
With the Bird Buddies toolkit, kids can learn about the amazing lives of birds, their fascinating behaviors, their important role in a healthy and balanced environment, and how we can protect them and the habitats they live in. I think Bird Buddies might even have gotten me out of the car!
One of the recommended titles in the Bird Buddies toolkit is The Beak Book by Robin Page. Robin has written and illustrated numerous picture books, including the 2004 Caldecott Honor recipient What Do You Do with a Tail Like This?, which she created with her husband Steve Jenkins. In all, she's created 20 books, many of them co-written with Steve Jenkins. She both wrote and illustrated A Chicken Followed Me Home! and Seeds Move! and now The Beak Book.
Robin is enthusiastic about the art bookmaking and about research. We are so grateful to Robin for sharing more here about what inspired her interest in beaks, how she came up with the design for The Beak Book, and some fun and easy ways kids can explore birds and their beaks.
June 14, 2021
Evolving Ideas by Robin Page
Bird beaks come in many different
colors, shapes, and sizes.
From the time they are born
birds use their beaks — sometimes called bills — in many unusual
and amazing ways ...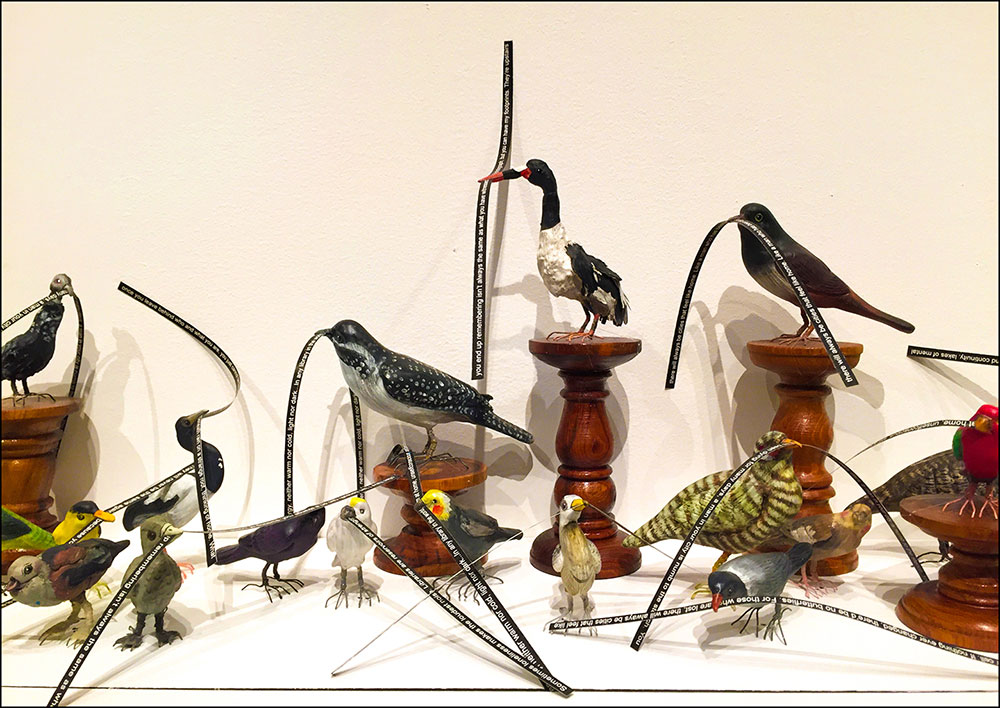 The idea for The Beak Book came to me while visiting the Museum of Fine Arts in Boston, Massachusetts. The picture above is from an art installation on display at the time of my visit. I was so taken with the idea of the birds holding descriptions in their beaks that I added it to the list of ideas I gather when I visit museums or zoos. When I first thought of doing a beak book, I realized I might be able to use that paper strip concept in this book. The example below was my attempt to do just that.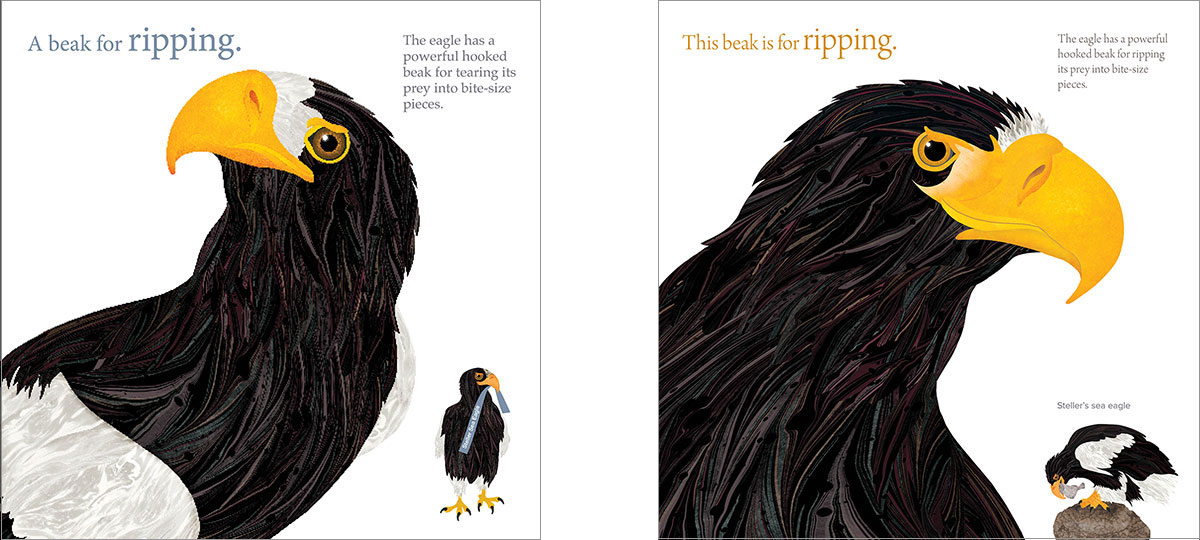 I proposed that each page would show a large image of a bird's beak as well as a small illustration of the whole body of the bird holding in its beak a ribbon identifying the bird. In the end, my editor, Andrea Welch, suggested that I might instead make the smaller illustration show how the bird uses its beak. Since this shows more about each birds' behavior and I had already identified each bird in the informational paragraph on every page, it was a perfect solution.
Have you ever wondered why there are so many kinds of bird beaks? There are beaks that strain or sniff, toss or crush, filter or snap, stitch or pry ... and these are just a few of the many actions that bird beaks perform. The varying beak sizes, shapes, and colors give us clues to what birds might eat, how they catch their prey, gather their nectar, and many other things. Other times, bird beaks have evolved in ways that help them thrive in diverse environments.
On a trip to the Galápagos Islands around 1831, Charles Darwin noticed differences in the shapes of finches' beaks from island to island. These finches, he proposed, had adapted to the available food found on each island. The beaks changed as the finches developed different tastes for fruits, seeds, or insects. The shapes of the finches' beaks made some of them better at picking seeds out of cactus fruits and made others better at cracking the tough seeds found on the ground. The incredible diversity of birds' beaks is fascinating to explore.
Below are a few of the beaks found in The Beak Book:
Activities
1. Children can make their own discoveries by looking at bird beaks in the backyard or a park. They might listen for the pecking of a woodpecker, watch a robin pry a worm from the ground, or observe a hummingbird sipping nectar from a flower and notice how each bird's beak is suited to the way it survives in the world.
2. Use common household tools, such as scissors, tongs, a straw, tweezers, a spoon, or a nutcracker to discover which tool is best suited for gathering a variety of foods.
More bird books for all ages to read and explore: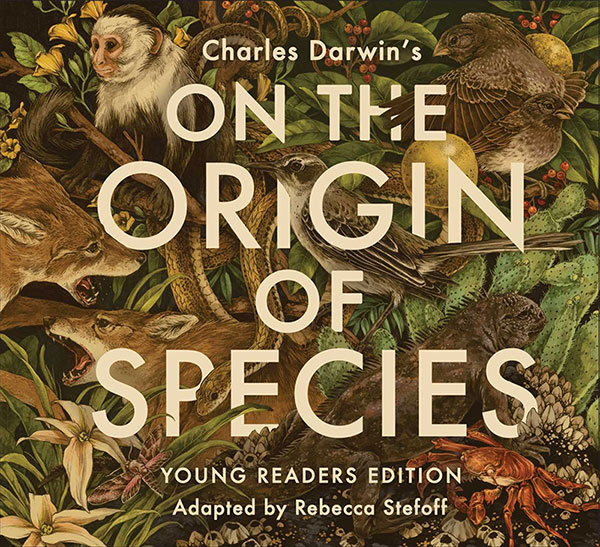 Charles Darwin's On the Origin of Species, Young Readers Edition
adapted by Rebecca Stefoff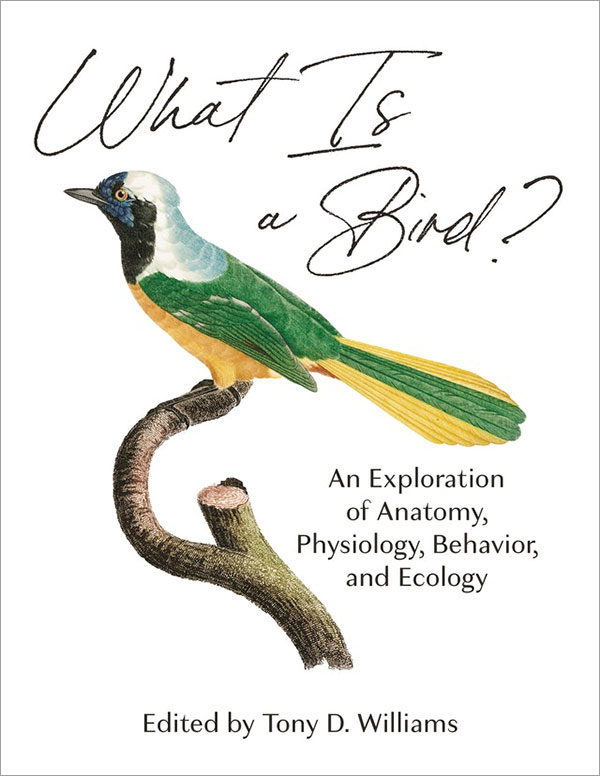 What Is a Bird? An Exploration of Anatomy, Physiology, Behavior, and Ecology edited by Tony D. Williams
The Big Book of Birds by Yuval Zommer
More about Robin Page