Everything's a mystery when you're growing up. Things are happening out of your control and you want to know why! I think that's why I devoured mystery series like Encyclopedia Brown, Nancy Drew, and Trixie Belden as a young reader and totally wore out my copy of The Westing Game. In reading about how these characters focused on clues and details to solve problems, I learned a lot about how to observe and find answers to my own questions.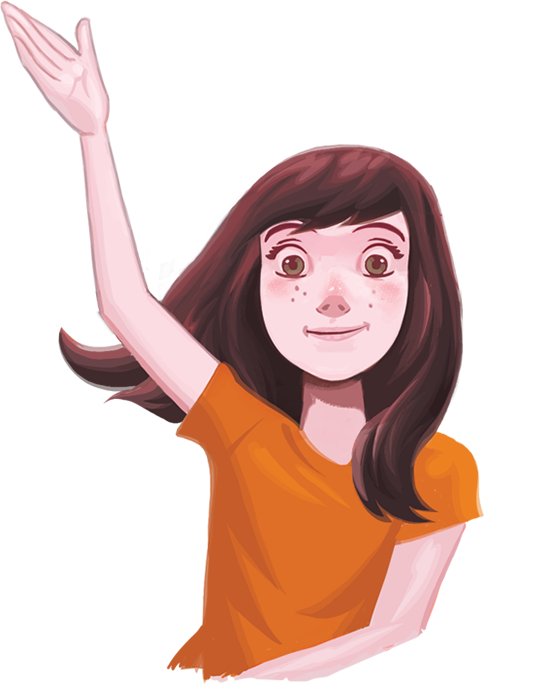 I still love mysteries — some for grown-ups, but also young adult titles, like Pasadena by Sherri L. Smith and Maureen Johnson's Truly Devious series. And for the young reader in me, The Parker Inheritance by Varian Johnson and Wendelin Van Draanen's Sammy Keyes series now rise above some of the more saccharine sleuths of my childhood.
Wendelin Van Draanen also liked reading mysteries when she was growing up. But her Edgar-winning Sammy Keyes mystery series features all kinds of problems to solve, not just mysterious ones. We're delighted to have Wendelin here to share more about her rich and relatable title character and what having access to such a character can do for young readers.
In addition to the Sammy Keyes series, Wendelin Van Draanen has written many books for young readers including Flipped, which was named a Top 100 Children's Novel for the 21st Century by SLJ and became a Warner Brothers feature film, the anti-bullying Shredderman books, which received the Christopher Award and were adapted into a Nickelodeon movie, The Gecko & Sticky books which are fun read-alouds, perfect for reluctant readers, and The Secret Life of Lincoln Jones, which won Bank Street College of Education's Josette Frank Award.
---
January 3, 2021
The Case of the Eager Reader by Wendelin Van Draanen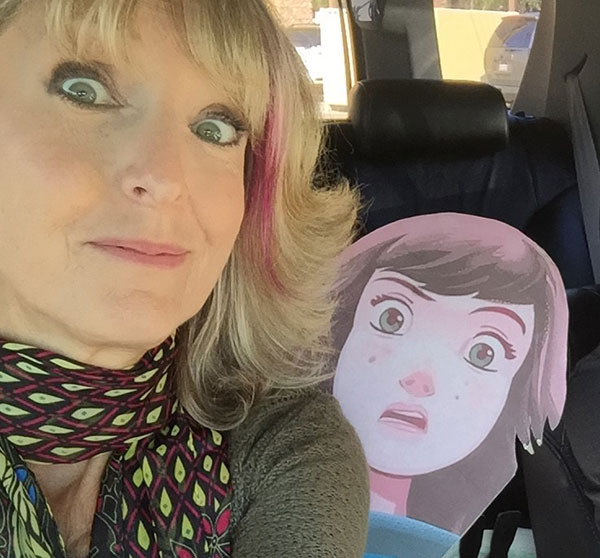 When crafting a story, I always try to keep my intended readers in the forefront of my mind. I remind myself which elements of a story I liked as a child, and try to avoid the ones I didn't.
I aim to write the flashlight-under-the-covers sort of story — the kind kids want to read.
But as a mother and a former classroom teacher, I also want to give my readers something to chew on after the last page. A theme with a message that I firmly believe shouldn't feel like a message!
While writing Sammy Keyes and the Hotel Thief, I was going through a rough time, living in a rundown rental in a bad part of town. My environment and situation definitely influenced Sammy's world, but rather than letting them pull Hotel Thief into a dark place, I balanced the story with lots of action, humor, and cliffhangers — my childhood favorites.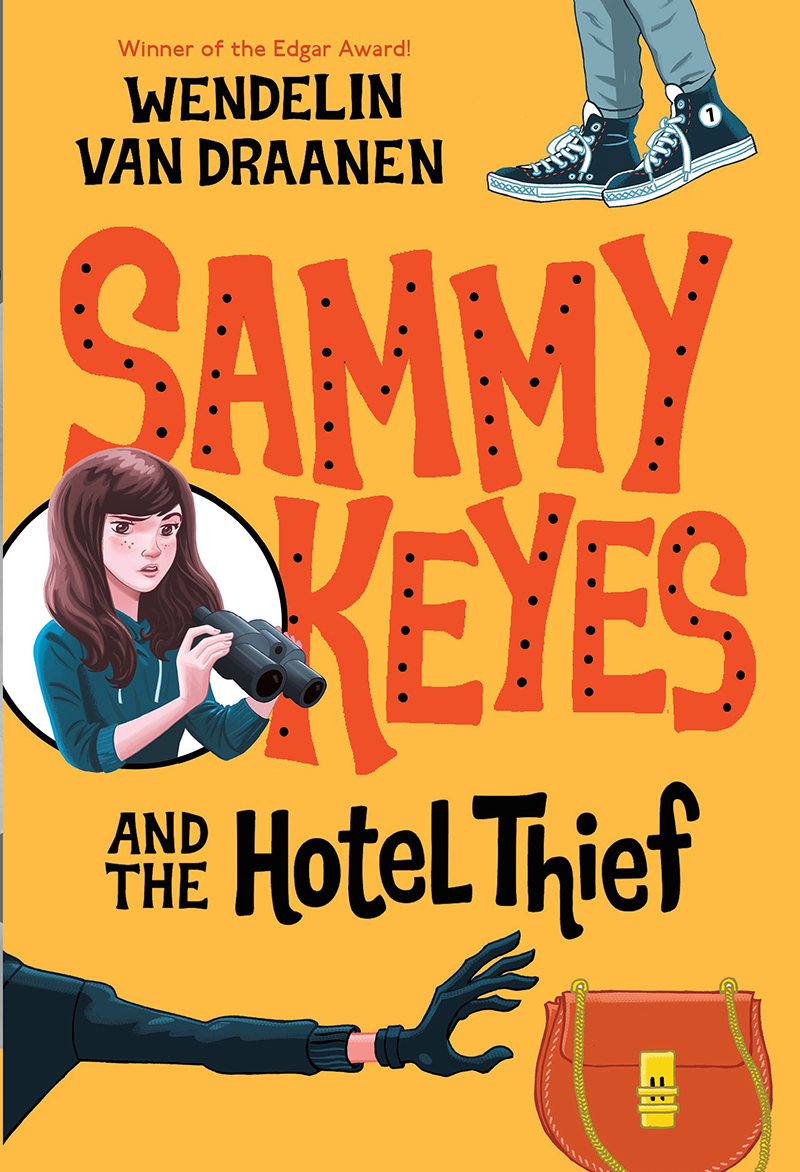 The Sammy Keyes series sits squarely in the mystery genre. But the mystery in each is only one thread in these tightly braided stories featuring spunky Samantha. It's the part that moves the action forward and brings danger to the fore. It provides the puzzle to solve, and also creates the desire to break out a flashlight!
But it's Sammy's homelife and personal reflections that create the emotional depth to each story. She lives in a subsidized seniors-only apartment building with her grandmother, and since Sammy's a child and not supposed to be living there, she resorts to sneaking up and down the fire escape to attend school.
And since there's a nosy neighbor across the hallway who's trying to prove Sammy lives there illegally, it's imperative that there's no evidence of Sammy's presence in the apartment in case the building supervisor drops by … again.
The apartment they live in is very small. Sammy describes it by saying you could hose the whole thing down with the kitchen sink sprayer. She sleeps on the couch, and everything she owns is either kept in her backpack, or stashed inside her grandmother's bottom dresser drawer.
Sammy's definitely not happy about any of this. She's in this predicament because her mother left her in Grams' care "temporarily"—which has already become a full year when Hotel Thief begins — and she has no idea who her father is.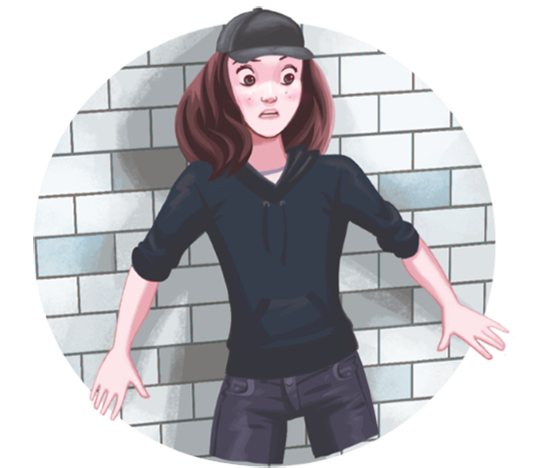 All of this creates Sammy's social predicament — it's hard to build friendships when you have big secrets to hide, it's hard to feel loved when you've been abandoned, and it's hard to rely on the police when you yourself are breaking the law.
So, when Sammy sees a thief stealing from a hotel room across the street … and he sees her watching him … she doesn't call 911. Instead she does what she can to track down the thief while simultaneously dodging the police.
Mysteries are wonderful for nurturing critical thinking and prediction skills, but having a story with a main character that the reader identifies with and likes creates fertile ground for deeper discussion of broader social issues. For example:
If all your possessions had to fit in the space of a backpack and a single dresser drawer, what items would you keep?
If you saw a crime but reporting it might get you in trouble, would you report it?
Grams is the one person Sammy can rely on. Who's the "rock" in your life?
I often describe Sammy as the friend I wish I'd had growing up. And with books — and with series in particular — a character can become a needed friend or a guide to help kids through their growing years. This was my goal with the Sammy Keyes series, which is now complete at 18 titles.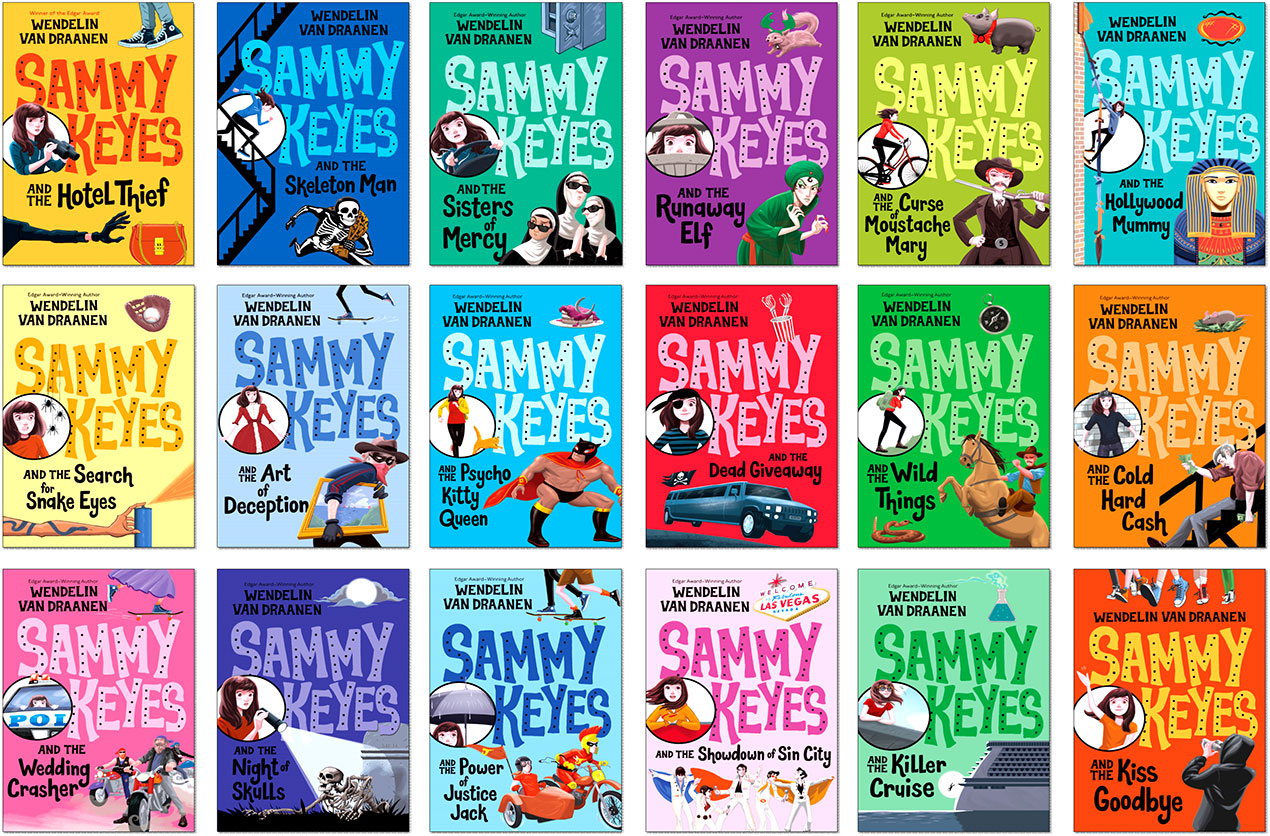 Across the series Sammy grows up a month at a time, and each book has a unique theme — something relevant to expanding the reader's thoughts well beyond "whodunit."
There's also an overall arc to the series, so in each book Sammy grows a little emotionally as well. For example, by the third book, Sammy's encounter with a homeless girl leaves her appreciating her own living situation. Think of the valuable discussions that can come from engaging young readers around that growth by expanding on topics like gratitude, compassion, perspective, and attitude.
Giving young readers books they truly enjoy is key to discovering a love of reading and supports the development of strong reading skills, which we know to be the precursor to success in every academic area. And if handing them books with mystery, mayhem, and laughs can create The Case of the Eager Reader while also encouraging compassion and contemplation, well, that's no crime!
More about Wendelin Van Draanen