Rebecca Burton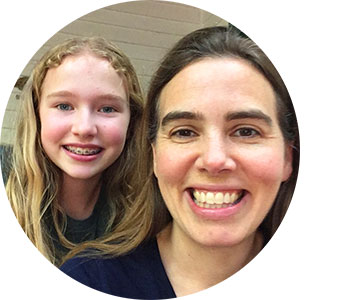 While books can transport you through space and time, sometimes you just have to get behind the wheel and go! Always a great bonding experience, the summer family road trip can also be a learning adventure full of meaningful and authentic opportunities for kids to read, write, listen, and talk.
Meet Rebecca Burton, school librarian at Ludlow-Taylor Elementary School in Washington, DC, who shares how great books, websites, and apps fit into her family's travels this summer. Rebecca lives with her two kids, Thea and Alden, husband Eric, and pit bull mix Harper, in Takoma Park, Maryland, but they are embarking on a cross-country adventure that starts with a book! When she's not reading, Rebecca loves to go for long walks, have dance contests with her kids, or sit on her back porch drinking coffee. You can be sure she's already got her imagination packed for this trip!
---
July 3, 2019
I have a great job. I love it. Love it, love it, love it. I'm a school librarian at an elementary school in DC, and all day long I'm reading with kids, recommending books, singing, acting out "Elephant and Piggie," and generally just doing awesomely fun stuff.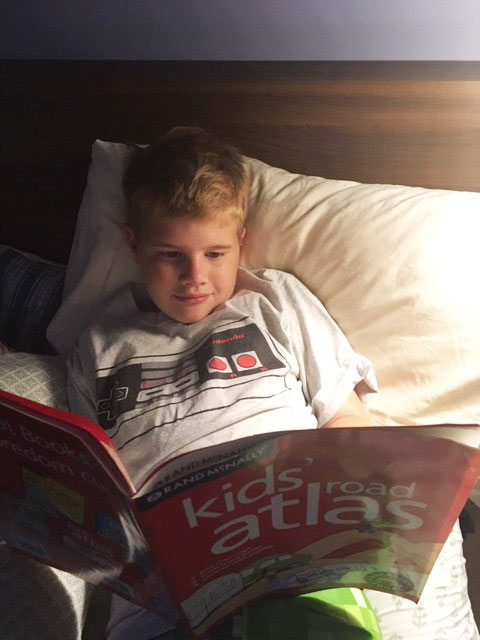 That being said, when the weather starts to get warmer and the days longer, I yearn for the freedom of summer. It's my time to recharge — and to reconnect with my family. My daughter, Thea, is 12 and my son, Alden, is 8, and while I know that there will be a time when a summer trip with the fam will not be top on their list, for now, they're game for adventure. And their mama has a serious case of wanderlust.
This year, our compass is pointing us west. Specifically, to the National Parks of Colorado. Eric, my husband, will fly out and meet us in Denver and the kids, my brother-in-law (Robert), and I will be road-tripping it from Maryland. To get our minds wrapped around the distance we'd be traveling, we broke out Alden's handy Rand McNally Kids' Road Atlas, which in addition to having loads of fun activities for the car, has simplified maps that help little ones see and understand the layout of the U.S.
Once everyone understood that we'd be going a looong way, we started to investigate the reasons for such a drive. Our visit to the library yielded a couple of great finds from National Geographic: National Parks Guide U.S.A. and Ancient Pueblo.
We decided to focus on the parks with a dinosaur component (for the kids) and a history and architecture focus for me, Robert, and Eric. I'd visited the cliff dwellings as a child and had been itching to get back. The free National Parks app from REI is frankly awesome and has lots of little nuggets of information, photos, and family-friendly reviews of short hikes and sights. I will say that Alden is not a hiker by nature, and it's really useful to show him in advance what to expect, how long the walk will be, and what we'll see. Somehow seeing it all in an app format makes it easy for him to get on board.
The National Parks website is also loaded with great info and Thea has spent a lot of time digitally wandering around its offerings.
Before we hit the road, though, the kids and I have spent a lot of time talking about how we'll fill those hours across Virginia, Tennessee, Missouri, and Kansas. No doubt there will be movies but I believe it's important for us, from time to time, to look up and look around. We've downloaded Libby, a free app from our local library that connects us with hundreds of audiobooks. Alden has requested that we listen to Judy Blume's Double Fudge. Thea has experienced Harry Potter in book, movie, and theme park formats, so it seems about time to give the audiobook version of Harry Potter and the Sorcerer's Stone a whirl.
We've also decided that every time we cross into a new state, we'll mark that moment with a poem from My America. While our travels won't take us to Alabama, I'm haunted by the Langston Hughes poem that celebrates the state, Alabama Earth (At Booker Washington's Grave). I'm trying not to read ahead but I figured just one or two wouldn't hurt, right?
When we are feeling less lyrical, we'll be reaching for two family favorites: Laugh Out Loud Jokes for Kids and Would You Rather?. I've found that the joke books really help Alden practice reading without him realizing he's doing it. And "Would You Rather" is just a fun game. I mean, imagine the conversation that stems from wondering if you'd rather discover a pirate's chest — or a living dinosaur. It's a silly and low-stakes way to get us talking, and the conversations often end up in surprising places.
Last but not least, I'll be making one of the kids record all the license plates we see by using the States and Plates app. I really can't get anyone in my family interested in the license plate game but I don't care — I love it! Finding that elusive Hawaii plate, wondering aloud why we always see so many people from New Hampshire but none from Vermont (for real — why is that?), waving at fellow Marylanders. Oh, the thrill!
That's where our research and planning has taken us so far. I can't wait to see the adventures that unfold as we work our way 2,000 miles west. Wish us luck!